DESCRIPTION
SPECIFICATIONS
OPTIONS & ACCESSORIES
APPLICATIONS
DESCRIPTION
FEATURES
SOLAR LS presents a new model of completely air-cooled pulsed diode-pumped Nd:YAG laser.
The QX500 delivers 160 mJ at 1064 nm in nanosecond pulses at repetition rates up to 20 Hz.
HIGH-POWER OUTPUT OF 160 MJ AT 20 HZ
AIR COOLING – NO WATER REQUIRED
SMOOTH FLAT-TOP BEAM PROFILE
BUILT-IN VIS AND UV HARMONIC GENERATORS
OEM/INDUSTRIAL DESIGN FOR 24/7 OPERATION
LONG DIODE LIFETIME OVER 1 BILLION SHOTS
TURN-KEY OPERATION
DESCRIPTION

The QX500 laser features long-life laser diode bars and delivers excellent pulse-to-pulse and long-term stability which is ideally suited for use in scientific, industrial, and medical applications. Diode pumping reduces size, improves reliability, and eliminates most maintenance operations.
Minimum service costs are conditioned by optical pumping using laser diode bars with more than 109 pulses lifetime.
Stability of the parameters and the laser reliability are guaranteed due to dustproof housing design and thermal stabilisation of the optical cavity.
The possibility of operation in the VIS and UV spectral range thanks to harmonic generators built into the QX500 laser head will expand
your opportunities.
Compact laser design and complete air cooling not only simplify application of this device as a stand-alone unit, but also allow to integrate it into any equipment.
SPECIFICATIONS
SPECIFICATIONS
MODEL
QX500
Max pulse repetition rate 1), Hz
20
Pulsed energy, mJ
1064 nm
532 nm
355 nm
266 nm
213 nm 2)
160
90
50
25
5
Pulsewidth (FWHM) 3), ns
10
Beam diameter, mm
< 5
Divergence 3), mrad
≤ 1,0
Pulse energy stability (StdDev) 3), %
< 1.5
Jitter (StdDev) 4), ns
< 1
Cooling
Air
Electrical service
100…240V, 50/60 Hz, ≤ 500W
Dimensions, mm:
Laser Head (LxWxH)
Power Supply (HxWxD)
390 х 215 х 170
400 х 350 х 150
* Specifications are subject to change without notice.
1) You can choose any PRR from 1Hz to 20Hz when placing an order. All the parameters are specified for 20 Hz.
2) With external LG105 unit.
3) Specified at 1064 nm.
4) With respect to QSW IN pulse.
QX500 laser typical near field beam profile at 532 nm.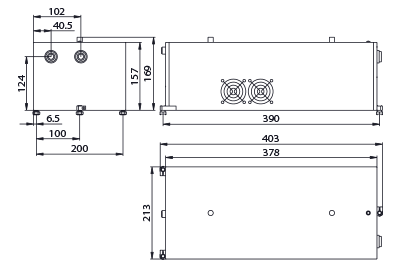 QX500 laser head outline drawing.
QX500 laser power supply outline drawing.
OPTIONS & ACCESSORIES
OPTIONS & ACCESSORIES
TEM00 mode
External attenuators
APPLICATIONS
APPLICATIONS
OPO, Ti:Sapphire and Dye laser pumping
Laser marking and materials processing
Plasma generation and LIBS
Laser spectroscopy
Nonlinear optics
LIDAR
SOLARLS的所有資訊來自SOLARLS網頁,所有版權歸SOLARLS,繁體字版權屬安均科技。