1. DESCRIPTION:
TEMPer (gold) is our new type of Hid TEMPer. It is the thermometer that can measure the temperature by USB port connecting to computer.  It can measure the temperature of the machine and the environment accurately.
2. APPLICATION:
Computer room, weather, environment and special environment temperature testing.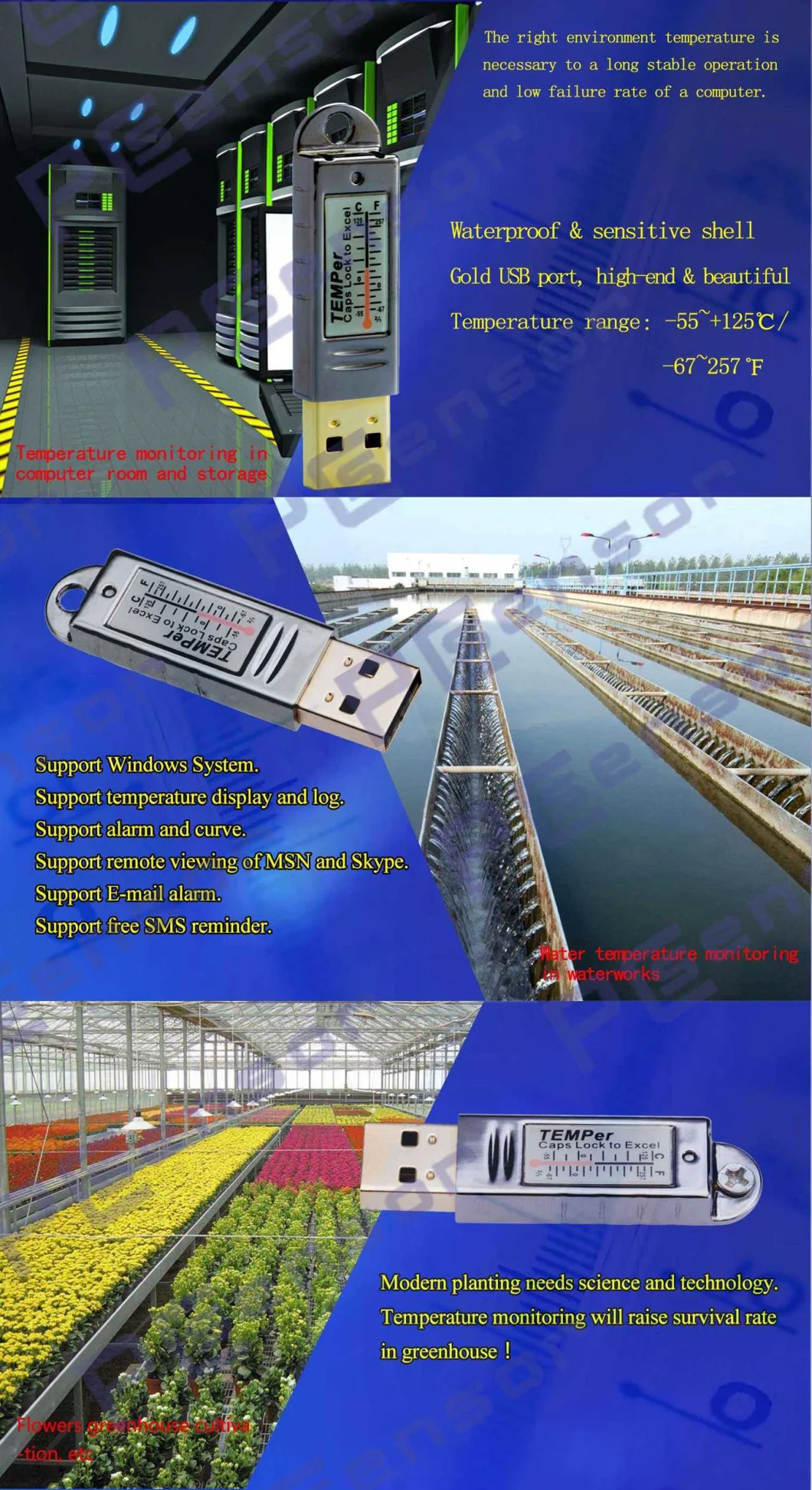 3. FUNCTION&FEATURE
New:
Die-casting electroplating shell, superb waterproof, agile induction
gold USB
measure rang: -55~+125C/ -67~257F
sensor is LM75
fixed installation holes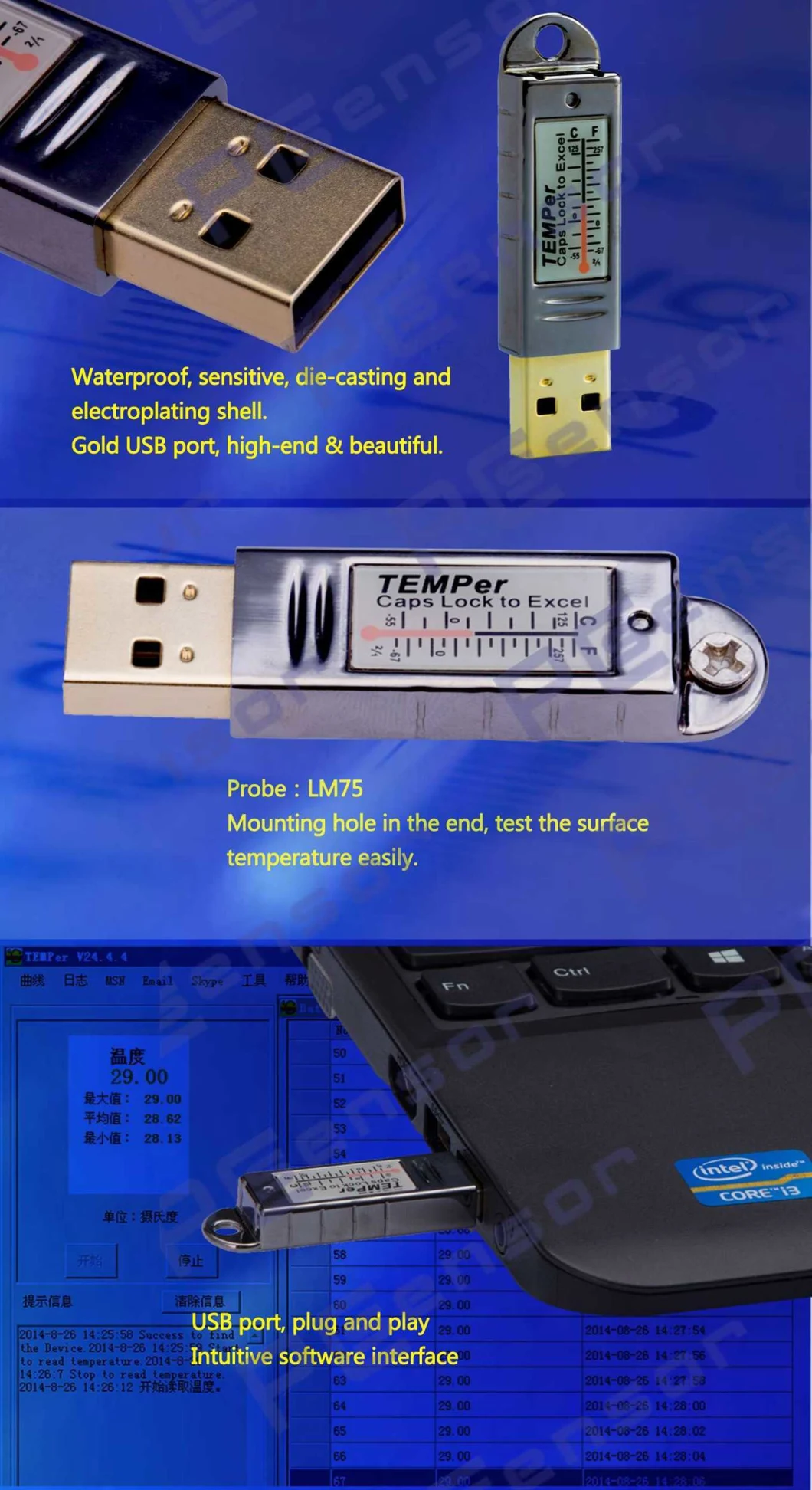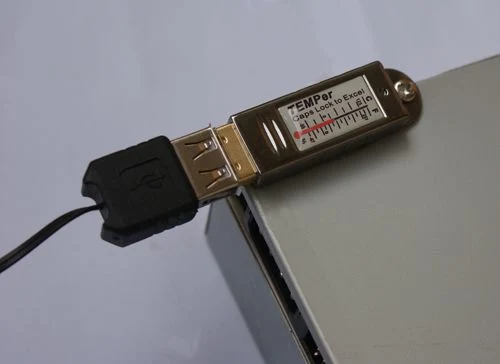 The item can be fixed on the device with screw when you want to measure temperature of equipment surface.
Feature:
Resolution rate: 0.06C
Temperature Accuracy:
– 25°C to 100°C: ±2°C (max)
– 55°C to 125°C: ±3°C (max)
Electricity: < 8 mA;
Voltage : 5V
Support Windows NT,XP, Vista;
Memory requirement: 20M
Data auto save to be txt or csv format, can be open by Excel;
Function:
CapsLock and NumLock
Graph transfer
Log
Email
MSN
DETAIL:
CapsLock and NumLock:
You don't want to install software, OK! You can use the CapsLock and NumLock function.
As long as you long press the CapsLock or NumLock for 3 seconds, you can read the temperature no matter in Excel, text or word form without running software. Then you can create curve.
4. INSTALLING INSTRUCTION
Software installing instruction: please go to our website to download the process
a) Install dotnetfx.exe, if your computer system is Vista, may be you don't need to install this process. Dotnetfx.exe is framework 2.0 of Microsoft; you can download it from the website of Microsoft;
b) Decompress TEMPer .rar to you computer, and running TEMPer.exe.
Hardware installing:
Plug the thermometer into the USB port of the computer to connect it. If you plug it correctly the red light in the device will be turned on.
5. OPERATING INSTRUCTION
1) LOG
(Note: Our software just support windows OS .)
CURVES DISPLAY
There is Two Curves, One is AVG Line and the Other is Current Line. The User can Check the Situation of Temperature Contrastively. The Curves can Real-time Display the Changing Situation of Temperature. The Tendency of Curves Responds the Real-time Temperature Situation.
ADVISE: Please Check the Log or Data File in Save Contents When You Want to Check the Historical Data.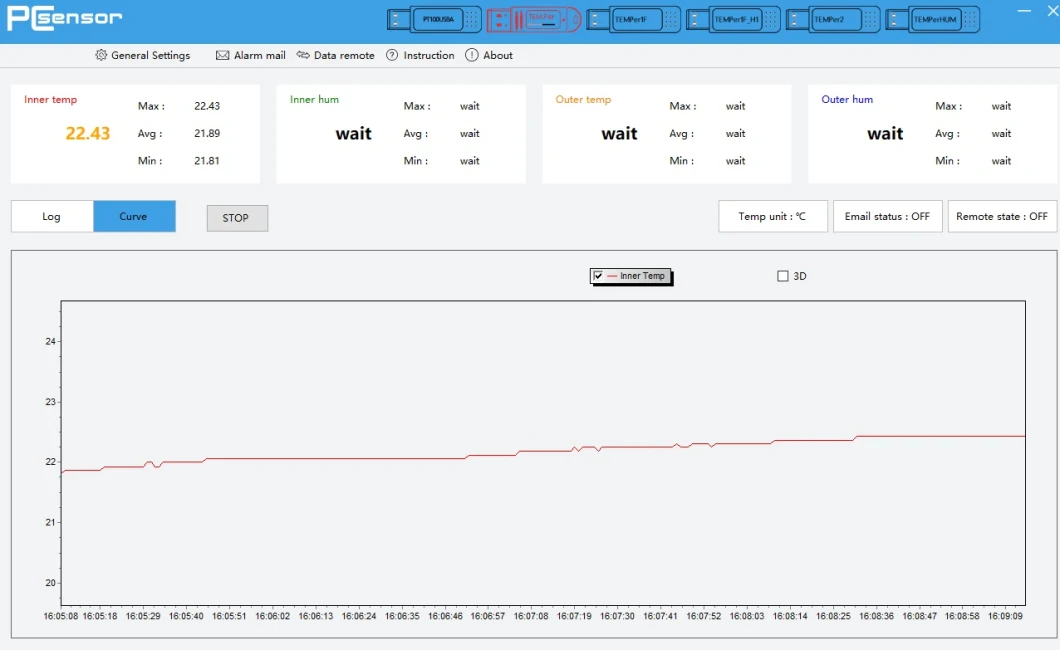 Alarm MAIL
Fill in the Related Information of Email and Save it. The Requirement of Send Email: Support POP3/SMTP and Other Server Port. Receive Email you can fill in two.
Related Function: 1) when the Alarm is on, it will send the Email to Specified Email Box Automatically if the Temperature Reach the Alarm Limit. 2) You can set the Sending Interval, and then it will send the Email to the Specified Mail Box at Set Intervals. (Advise) 3) it can Send Email Continuously to the Specified Mail Box. (Deprecated feature)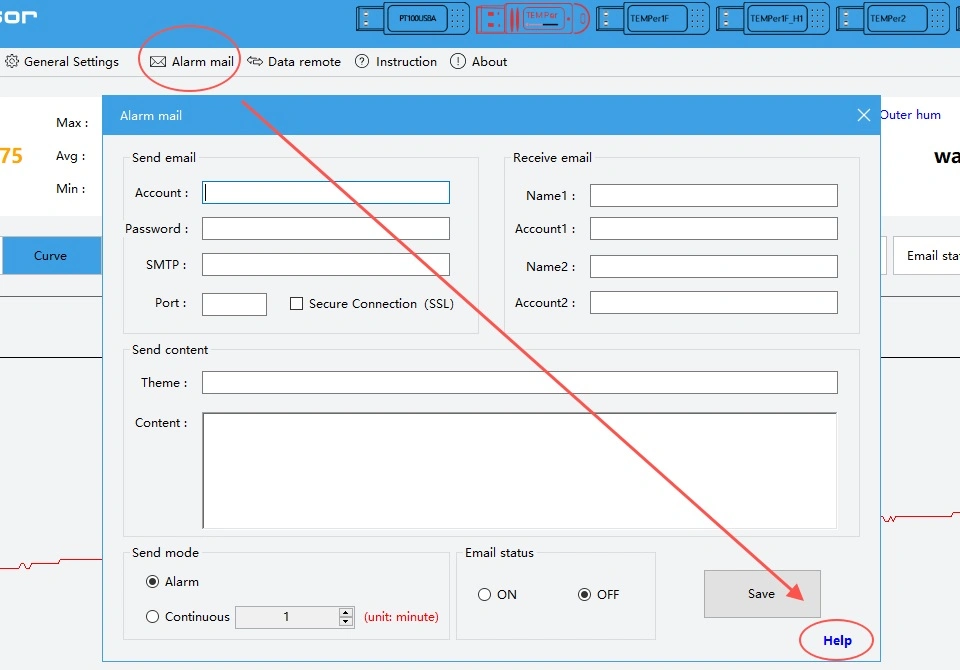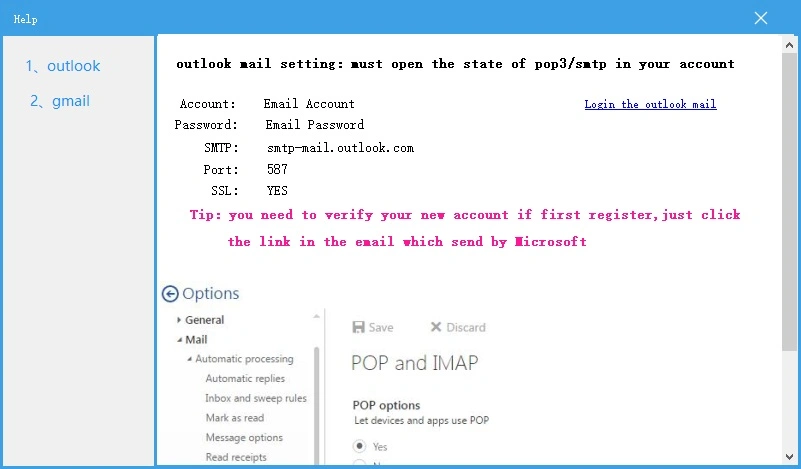 Data remote