Product description
USB to TTL serial cable, using original CH340 chip, hardware full-duplex serial port, built-in transceiver buffer, support communication baud rate 50bps ~ 2Mbps. The application of the serial port is fully compatible with Windows system in computer, and no need to be modified.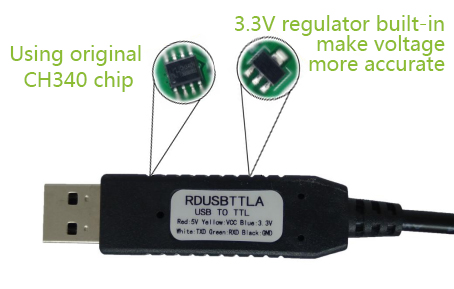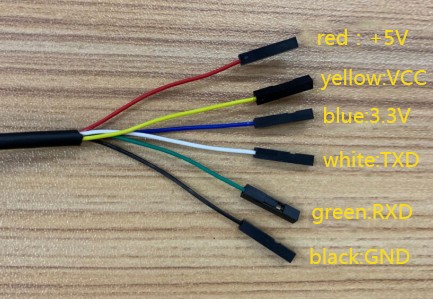 If the yellow connected with the red, the serial port level should be 5V
If the yellow connected with the blue, the serial port level should be 3.3V
Default 3.3V
Product Features
Wire length: 1.5 meters
Using totally new original CH340 chip takes the place of the old PL2303, and there will be no incompatibility caused by different drivers/different computers.
Reserve 5V, 3.3V level for selection, suitable for different level occasions
With three-color instruction light, power indicator (red), TX indicator (green), RX indicator (blue), the working status is very clear.
The interface uses DuPont terminals, which is easy to debug (customization for terminal interface is available)
The whole product is encapsulated by injection molding, which is dust-proof and moisture-proof, and protect the metal from being touched in case of short circuit.
Product application
Various satellite set-top boxes
Router, hard disk, ADSL, broadband cat firmware upgrade or crack upgrade
Mobile phone, XBOX360, GPS serial communication, car detection, DVD brush, etc.
Burn STC MCU, NXP MCU, Renesas MCU, NEC MCU, etc.
Simple serial communication, serial debugging tools that is commonly used in  Hyper Terminal
Electronic enthusiasts can use it to convert USB signals to TTL signals