YFOA Fiber Laser
Available wavelengths: 1030-1064 nm (fixed)

Average power up to 2 W

Pulse energy up to 1 uJ

Small footprint

High long-term stability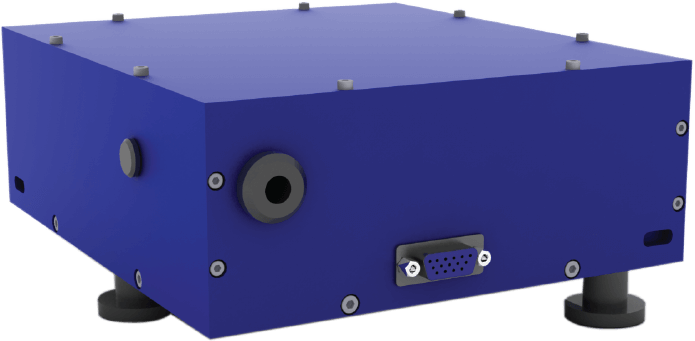 1. General
            The REUS family of amplifiers comprise a femtosecond seed oscillator (TiF-20F or fiber EFOA-SH), stretcher, Faraday isolator, Pockels cell with control and synchronization unit, regenerative amplifier, pulsed amplifier pump laser and compressor. The system may be equipped with an additional Pockels cell for contrast improvement. The cell enables the user to get "pulse-on-demand" operation and reduce the repetition rate to the required values. All elements are gathered into a single box on a thick breadboard, thus providing reliable and stable generation and hands-free operation. Upon customer request the system can be upgraded to deliver up to 500 mJ per pulse by adding further stages of multipass power amplifiers (with reducing the repetition rate to 10 or 15 Hz).
          The REUS amplifier family is an ideal source for femtosecond micromachining systems, terahertz imaging, OPA pumping, remote sensing and ultrafast spectroscopy.
2. Specifications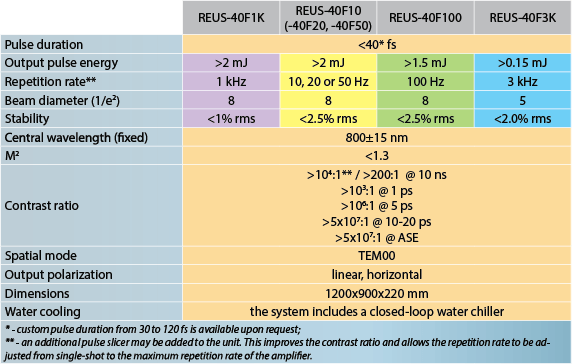 3. Applications
Fundamental research

Plasma studies

Filament research

THz generation

Materials processing

Femtosecond ablation studies
4. RFQ Hints
Just some quick hints before you send us an RFQ:
1. Please refer to our Diagnostics and Components product lines for additional equipment for your ultrafast millijoule or TW setup.
2. Custom specs and design is available.