ATsG multi-harmonic generator
Conversion up to 10%

Small walk-off angle

Low divergence

Low pulse broadening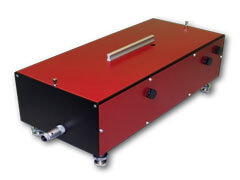 1. General
           The ATsG frequency conversion unit provides smooth second and third harmonic generation from a fundamental beam of Ti:S (750-900 nm), Yb (1020-1070 nm) and Cr:F (1250 nm) femtosecond laser systems. The unit is a compact portable system comprising the conversion crystals and all optics necessary for beam adjustment. The generators offer high conversion efficiency, virtually no beam distortion and low pulse broadening for ultrafast applications.
The ATsG800-C modification is optimized for conversion of mJ-level Ti:S amplifier radiation.
The AMG-1030C system is designed for conversion of 1-um ultrafast laser output.
2. Specifications

3. Modifications
-C – this modification is designed for frequency conversion of mJ-level Ti:S amplifier systems with enhanced efficiency.
4. Applications
Second and fourth harmonic generation from Ti:S, Yb and Cr:F solid-state femtosecond lasers.