EFOA-UB Er Ultra-Wideband Light Source
1100-2000 nm spectrum

Output power over 150 mW

RF sync output

Dual output modification (fs and broadband)

High long-term stability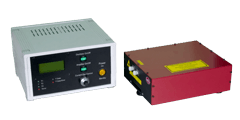 1. General
            The EFOA-UB system provides a turnkey, portable source of broadband laser pulses without requiring any user-adjustments to the fiber coupling.
            White light radiation generated by the EFOA-UB is sometimes called "supercontinuum radiation" due to its extensive and continuous character. White light laser generation is widely applied in different fields of science, medicine and industry, such as telecommunications, control of ultra-short light pulses, improvement of metrological measurement accuracy, optical probing of the Earth's atmosphere. The supercontinuum generator also leads the way to creating the new compact multiplex laser radiation sources for non-linear spectroscopy, microscopy and laser biomedicine.
2. Specifications
3. Modifications
-D – dual (simultaneous) output of fs and broadband beams.
4. Applications
Ultra-short pulse duration measurement

Telecommunications

Optical components testing

Optical coherence tomography

Fluorescence spectroscopy of biological markers
5. RFQ Hints
Just some quick hints before you send us an RFQ:
1.Customized enquiries are also welcome.