DESCRIPTION
SPECIFICATIONS
OPTIONS & ACCESSORIES
APPLICATIONS
DESCRIPTION
FEATURES
The LQ929 is a series of compact lamp-pumped Nd:YAG lasers built under the scheme master-oscillator – one-pass amplifier and having uncompromising combination of the main parameters: high output power, exceptional beam quality and minimum laser head and power supply dimensions.
OSCILLATOR-AMPLIFIER CONFIGURATION

HIGH PULSE ENERGY UP TO 1.5 J

EXCELLENT BEAM QUALITY

ALL THE HARMONICS AVAILABLE UP TO 213 NM

COMPACT SINGLE-PHASE POWER SUPPLY

NO EXTERNAL WATER REQUIREMENTS
DESCRIPTION


Typical beam profile at 1064 nm. Near field
The master oscillator of the LQ929 laser series, just as that of the LQ529 has ring cavity. The principle of operation of the ring cavity scheme and utilisation of pump chambers with high-efficiency diffuse reflectors provide output laser radiation with homogeneous beam profile and exceptional stability of output energy and spatial radiation parameters.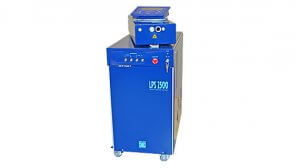 Nd:YAG laser model LQ929
SPECIFICATIONS
OPTIONS & ACCESSORIES
APPLICATIONS
SOLARLS的所有資訊來自SOLARLS網頁,所有版權歸SOLARLS,繁體字版權屬安均科技。