DESCRIPTION
FEATURES
CROSSED ENTRANCE SLIT SXM-1 (adjustable pinhole)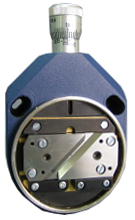 Micrometer-driven with opening width adjustable from 7μm to 2000μm (diagonal of the square aperture) or from 5μm to 1414μm (side of the square aperture).
Microscrew reading accuracy: +/- 1μm

Step: 0.125μm.
NON-MAGNETIC CROSSED SLIT SXM-2 (non-magnetic adjustable pinhole)

The slit is made of non-magnetic materials; other features are the same as for the SXM-1model.
SOLARLS的所有資訊來自SOLARLS網頁,所有版權歸SOLARLS,繁體字版權屬安均科技。