Reflective photoelectric switch(USW1TR_A)
1. Product description
Reflective photoelectric switch(USW1TR_A) is a kind of USB switch which can customized,
Like a standard HID Keyboard and Mouse,can be settled with supplied Software.Function of Switch could be customized arbitrary keys,combination,Mouse or string as you like.You can use it freely without software support after settlement.
Application:Photocopier,Printer,Game,Factory Test,Machine Control,Medical Equipment
Work efficiency will get a great boost.
Supporting Custom setup software based on Windows System ,but product could be used under the systems below after setup completed:
Dos
Win 2000
Win XP
Win vista
Win 7
Win 8
Win 10
Linux
Mac
3、Operations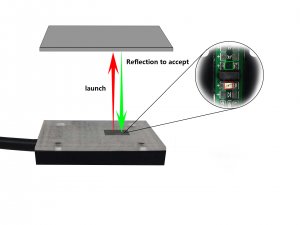 Switching Mode:Reflective photoelectric trigger mode
Input Infrared emitter tube emits invisible infrared light,and reflected back to the panel through object which get closed while working,Switch start working after internal receiving pipe catches the reflected light signal.
Trigger distance range:0-30mm.Could be settled with supporting software.
Note:Please choose white,smooth reflective object with reflective material for a better using effect.
Note: it is recommended to use some white and smooth materials with better reflectance, such as white paper, for reflective objects.
To prevent accidental triggering, this product is not suitable for the environment with strong sunlight, such as outdoor and balcony.
4、Software Instruction
 
4.1 Connecting to computer with USB line and run the software:FootSwitch_6.9.5.exe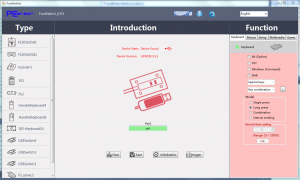 4.2 Customized Key Function
Enter the function you want in key box,or directly choose Mouse or character string function on the right part,Then click"save".When you see notice of successful saved,means the setup completed.
Based on Linux or MAC system,you need to revise definitions of keys before using with windows.then connect switch with Linux or MAC system to start working.
4.3Trigger distance setup:Click "key Trigger Value"and drag slidder on the left of setup window,click "save"after setup complete with notice.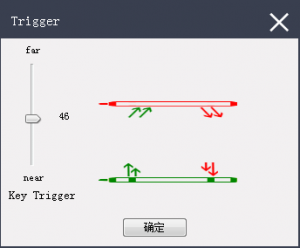 5、Specification & Parameters
 
5.1Shape Size & Install Holes Display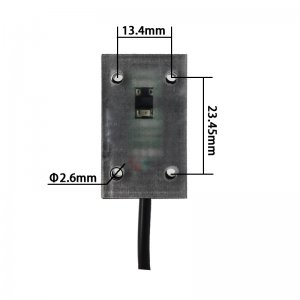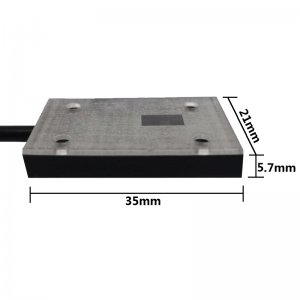 5.2 Parameters
Working Voltage:DC5V
Working Current:<30mA
Cable Length:2m